All your social & channels in one single place!
Centralize and manage your customer support in one platform. Integrate WhatsApp, Facebook Messenger, Webchat, Custom AI Bots, E-mail and more.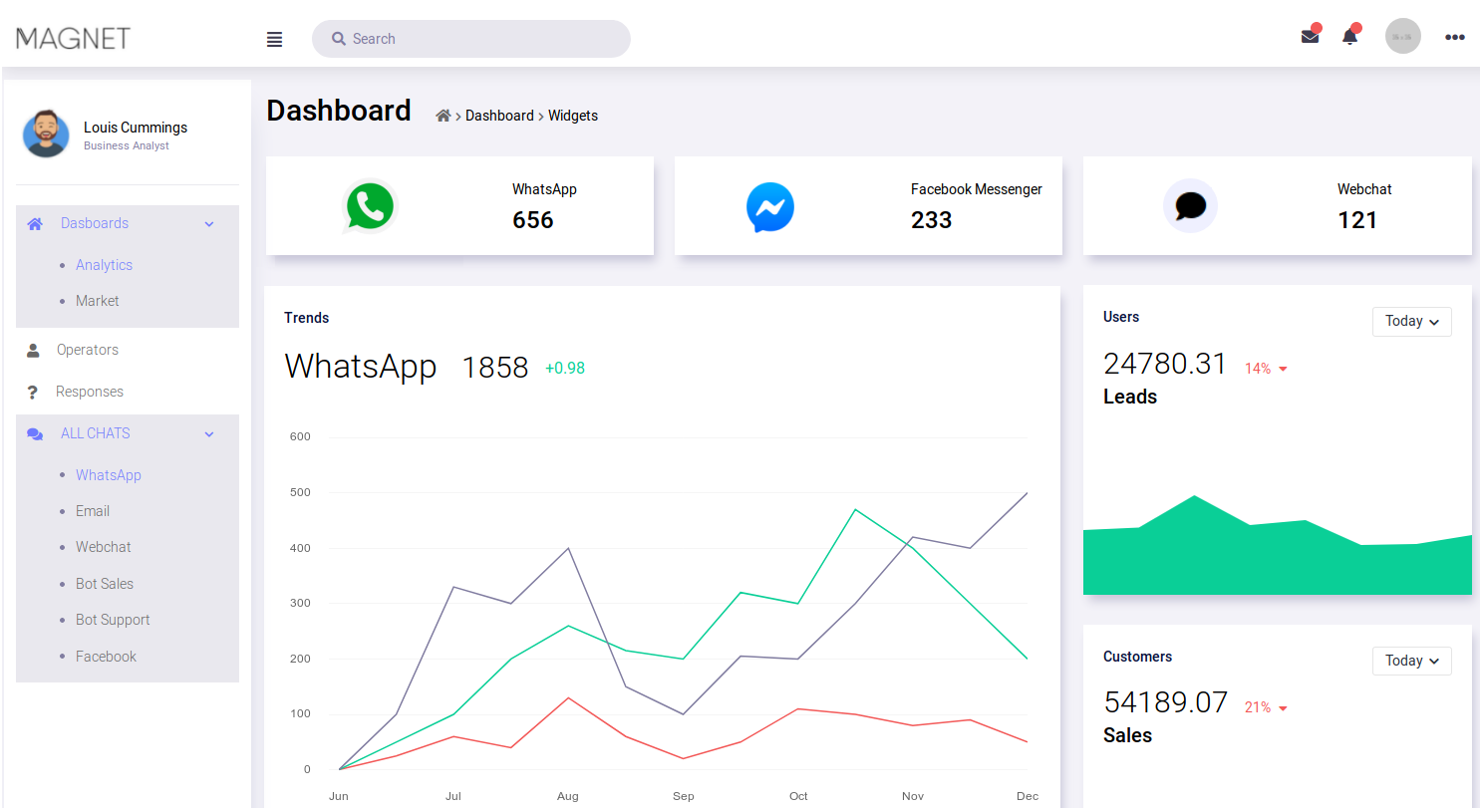 Centralize, measure and improve your customer support
Manage the messages and leads of all your marketing channels on a single multi-operator platform.

Magnet increases your sales and quality of care in a measurable way.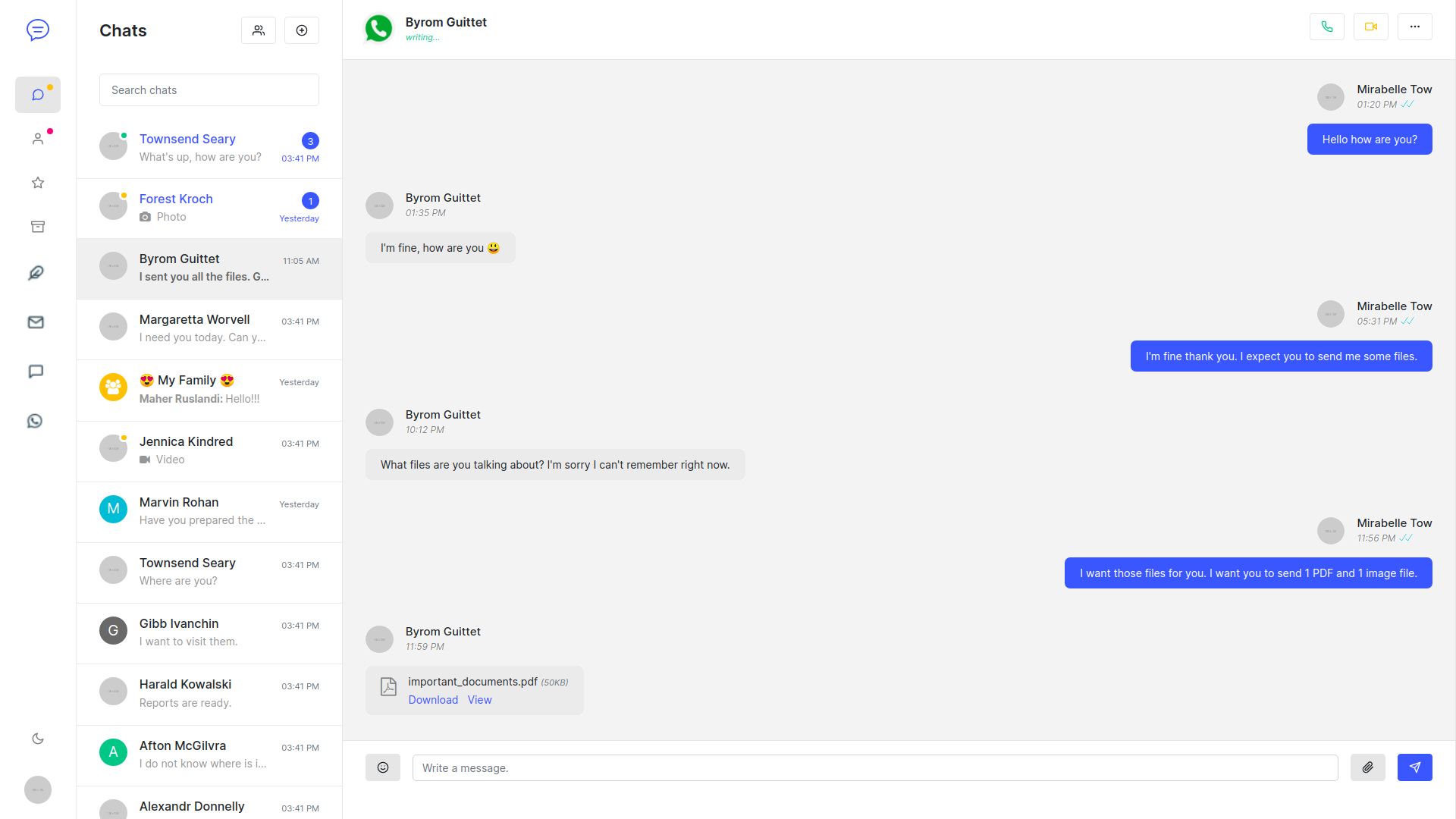 All your Leads centralized in one place
Multi-operators on parallel. Transfer conversations based on custom criteria (queues, workload, area, etc)
Monitorize performance and metrics on real time (Operator score, stats, etc)
Create conversation reports, response time AVG, satisfaction survey, etc
Real time charts Dashboard
Predefined responses, custom AI Bots, custom implementations and integrations with 3rd party CRM's
Multi-Channel
Take care of all your channels in a single platform and scale-up the custom support with all the operators online that you need
Multi-Operator
Add extra operators "on demand" and increase your reponses and quality times. Transfer conversation between operatos and more!
Stats and Real time Reports
Audit and measure the quality of your service. Improve based on summarized data presented on a intuitive dashboard. Increase your sales and convertions today usign Magnet Tool.
Centralize unify and follow-up your Leads
Magnet allow a full tracking of each lead from the begging until a convertion or sale is made. Generate tickets based on custom states to identify each case and act quick. Also centralize all your customer database in one single platfrom and integrato to custom CRM's.
Official WhatsApp Business Accounts
Integrate WhatsApp API and give support to your customers at the same way you perform with other MKT channels. No phone line, chips, or phisical devices required.
Customize and Integrate your CRM's
The Magnet team will be available to bring full support in custom needs and integrations. Get in touch to let us know about your business and we'll help you with any custom integration you need.
Simple and Intuitive UI
Minimalist, for a great user experience and quick learning curve. Not great tech skills required by operators to start use Magnet.
Multi-Chat screen

Your operators will be able to use the platform at the first time. Due the intuitive design virtually any user will be working at 100% without complicated instructions to follow

Intuitive panels

Always found the options and functionality under the clear Magnet interface.

Super fast interactions

Developed under state of the art. The look & feel is always fast and agile for the users perspective.
Automatic Responses

Setup your own responses for FAQ's. Spend the time responding just questions to concrete sales and convertions. No need to type the same responses each time.

Individaulice Channels

Identify each channel activity and generate charts and reports with trends by day, month, etc. Optimize and pivot your marketing campaigns

Conversations Statuses

Create 100% custom status and identify and manage your own flow.

Channels
Integrate all your MKT & social media channels with Magnet