All your social & channels in one single place!
Centralize and manage your customer support in one platform. Integrate WhatsApp, Facebook Messenger, Webchat, Custom AI Bots, E-mail and more.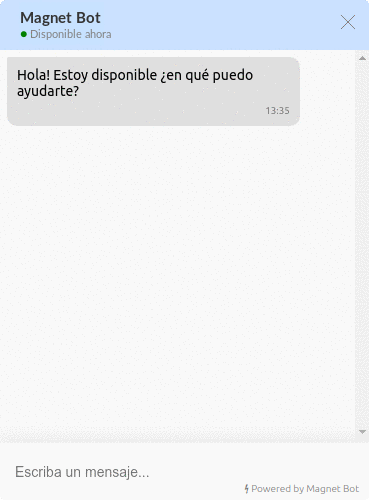 Centralize, measure and improve your customer support
Manage the messages and leads of all your marketing channels on a single multi-operator platform.

Magnet increases your sales and quality of care in a measurable way.
Multi-Channel
Take care of all your channels in a single platform and scale-up the custom support with all the operators online that you need
Multi-Operator
Add extra operators "on demand" and increase your reponses and quality times. Transfer conversation between operatos and more!
Stats and Real time Reports
Audit and measure the quality of your service. Improve based on summarized data presented on a intuitive dashboard. Increase your sales and convertions today usign Magnet Tool.
Centralize unify and follow-up your Leads
Magnet allow a full tracking of each lead from the begging until a convertion or sale is made. Generate tickets based on custom states to identify each case and act quick. Also centralize all your customer database in one single platfrom and integrato to custom CRM's.
Official WhatsApp Business Accounts
Integrate WhatsApp API and give support to your customers at the same way you perform with other MKT channels. No phone line, chips, or phisical devices required. (Magnet.chat)
Customize and Integrate your CRM's
The Magnet team will be available to bring full support in custom needs and integrations. Get in touch to let us know about your business and we'll help you with any custom integration you need.
A plan for every need
Select the best plan for your organization, your team and needs
* Prices in US Dollars
Request a DEMO
Lets talk. Our team will be very pleasure to tell you more about Magnet Chat